RealHomes Theme Estate Sale and Rental WordPress Theme Description & Features
RealHomes Theme is a handcrafted WordPress theme for real estate websites. It provides design variations, a high level of customizability, and advanced functionality.
It is a real estate solution designed for
Indpendent real estate agents & agencies to build their dream websites.
People looking for a real estate booking solution, like vacation rentals.
Professional real estate developers to market & sell their projects.
People looking for a solution to build real estate websites where sellers can publish their listings against a fee OR a paid membership package. Free submissions are also supported.
It can be customized for various other scenarios.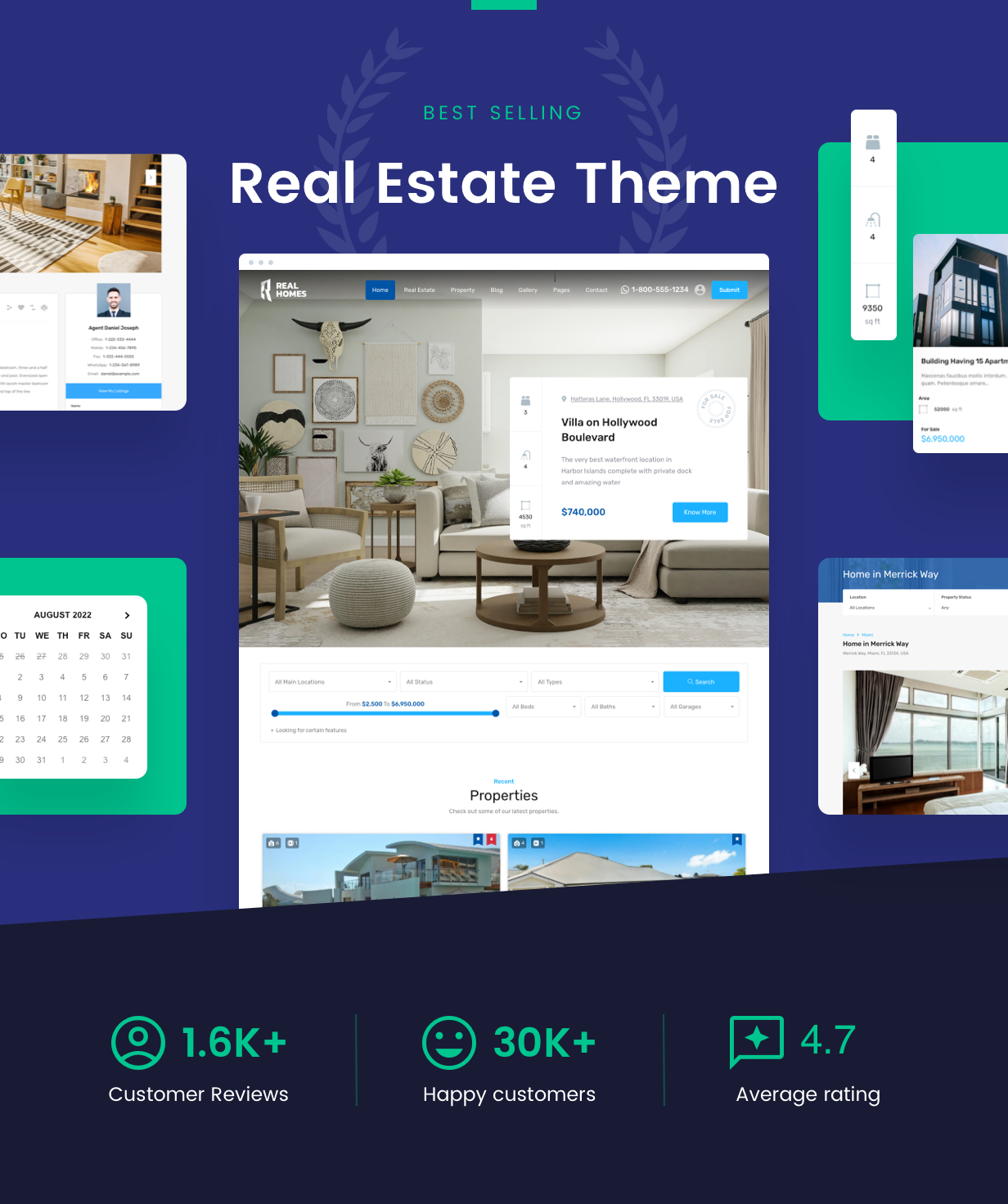 RealHomes Theme Estate Sale and Rental WordPress Theme Features
Property Listings: The theme offers a clean and attractive layout for property listings, showcasing property details, images, amenities, and other essential information in an organized manner.
Interactive Maps: RealHomes Theme integrates with popular mapping services like Google Maps, allowing users to view property locations, nearby amenities, and neighborhood information directly on the map.
Property Submissions: Realhomes theme enables property owners or real estate agents to submit their properties for listing on the website. Admins can review and publish these submissions after verification.
Mortgage Calculator: Real Homes includes a built-in mortgage calculator that helps users estimate their monthly mortgage payments based on property price, down payment, interest rate, and loan term.
Customizable Property Pages: You can customize the property detail pages to match your branding and design preferences. Add property-specific information, image galleries, virtual tours, and downloadable documents.
Membership and User Roles: Real Homes supports user registration and provides different membership levels or user roles, allowing you to control access to certain features or content on your website.
Responsive Design: Real Homes is built with a responsive design, ensuring that your website looks and functions great on various devices and screen sizes, including desktops, tablets, and mobile phones.
SEO-Friendly: The theme follows best practices for search engine optimization (SEO), ensuring that your website has a better chance of ranking well in search engine results and attracting more organic traffic.