Eduma Theme Description & Features
Education WordPress Theme – Eduma Theme is made for educational web, LMS, Training Center, Courses Hub, College, Academy, University, School, Kindergarten, etc.
Eduma Theme Features
20+ Education Demos plus 1 click Demo Importer
With 20+ different and unique demo homepages, this education WordPress theme gives you options to build your own, one-off site.
More demos will be coming soon, for every educational purpose, including Courses Learning Hub, Training Center, Languages School, University, College, School, Kindergarten …
Demo accounts (Username/Password):
• Learner: Student/Student
• Instructor: Instructor/Instructor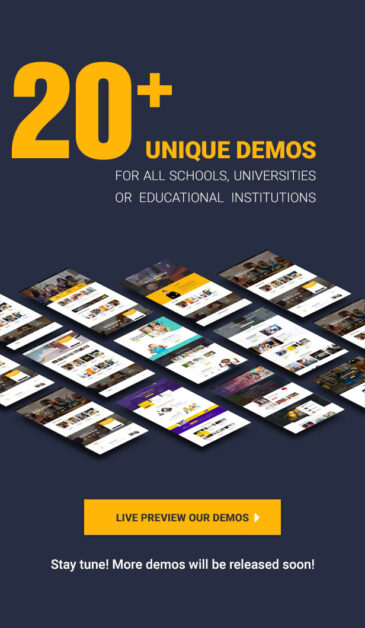 » 1 CLICK DEMO IMPORTER
Education WP theme comes with the amazing Demo Importer. This beautiful feature will do the theme installation job for you straight out of the box. Just go to Tools > Demo Importer, and off you go!

Built with #1 WP LMS Plugin – LearnPress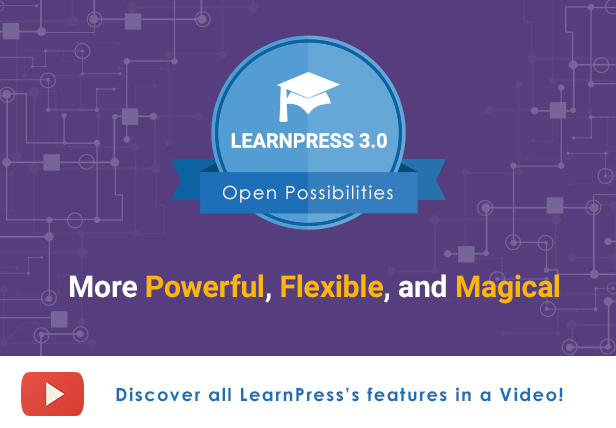 Other themes use the built-in LMS feature, right inside the theme, for their WordPress based Education website. Education WP theme uses LearnPress, the #1 WP LMS plugin on WordPress.org – the official WordPress Plugins Directory.
Which offers you a whole lot of benefits, such as: easy to update, independent from the theme, easy to change theme or update in future. You will be able to make Udemy, Coursera or Edx education websites in minutes.
Using Education WP, you will own a pack of LearnPress premium add-ons. This LearnPress Bundle is a part of the theme, and it will help you with managing your education system:
Sorting Choice Question Type.
Content Drip.
myCRED Integration.
Random Quiz.
Co-instructors.
Paid Membership Pro Integration.
bbPress Forum Integration.
BuddyPress Integration.
WooCommerce Integration.
Stripe Integration.
Authorize.Net Integration.
2Checkout Integration.
Certificate.
Collections.
Gradebook.
A little afraid of a heavy Learning Management System? LearnPress will put your mind at ease. You can enable / disable any LearnPress add-on at any time.
It's not smart to let your web server carry the extra weight of features that you will never use. The faster website speed, the better your Google ranking.
With the upcoming stable version 1.0 being updated to LearnPress, Education WP is absolutely the most flexible WordPress education theme ever. Here are some features you might be interested in:
Professional AJAX search box to search courses or blog posts in seconds.
Super easy Drag & Drop Curriculum Manager: courses, curriculum, section, lesson or quiz can be easily built from just one screen.
Compatible with many quiz question types: multiple choice, true or false, short answer, paragraph, image choice, etc.
Multiple payment choices including PayPal, Stripe, Authorize.net, 2Checkout, Offline and integration with WooCommerce.
Distraction free mode.
Quiz timing built-in.
Course reviews supported.
» Drag & Drop Course Builder – Eduma Theme
Specially designed as a WordPress site for school / university, or for a course / learning / training education site, Education WP is an optimized solution to save time.
With the Drag & Drop curriculum, courses couldn't be easier and more simple to build, and the theme is also highly developed as a perfect Search Engine Optimization (SEO) solution.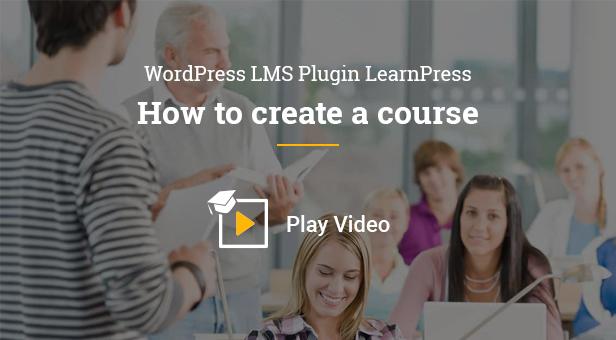 With the Drag & Drop interface, creating online courses is as easy as A, B, C! Shortcuts are also implemented, to make the instructor's life effortless when building new lessons, new quizzes or questions.
» Selling courses directly through PayPal, Stripe, Authorize.net, 2Checkout or Offline payment – Eduma Theme
This education WordPress theme uses the LearnPress plugin, which not only supports WooCommerce but also includes 4 other payment methods: PayPal, Stripe, 2Checkout and Authorize.net.
If you'd rather not make your web server support a whole e-Commerce system with WooCommerce, there are 5 payment gateways available for selling courses: PayPal, Stripe, Authorize.net, 2Checkout and Offline payment.
Update: In August 2016, we added two more premium LearnPress payment plugins for free: 2Checkout add-on for LearnPress, Authorize.Net add-ons for LearnPress.
These will give you a variety of pricing option for your website, make it easier for your learners to register and to pay.
» Selling courses Subscription / Membership with Paid Membership Pro integration – Eduma Theme
Take all advantages of the membership plugin: Paid Membership Pro to easily sell membership on your education website with Paid Membership Pro add-on, a Premium LearnPress Add-on on ThimPress website.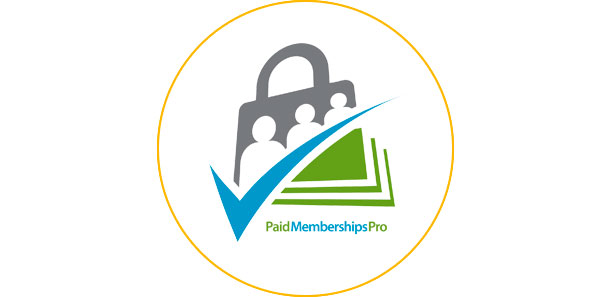 » Easily manage the commission rate for each course – Eduma Theme
One of the newest updates of LearnPress's Premium Add-on Bundle is the commission add-on for LearnPress. It acts as a commission rate management system that allows you to decide how much can author, lecturer earn for every course purchase.
This way, the online course website for your school, your university or your educational center is one step closer to being professional E-learning websites like Udemy, Lynda or Coursera.
» Selling courses with or without WooCommerce – Eduma Theme
If a complete eCommerce system, using WooCommerce, is not a problem for your web server, Education WP with WooCommerce can customize the purchase process for you, so that it's easy to manage customer course purchases.
» Course discussion with bbPress – Eduma Theme
Eduma Theme also Provide the discussion forum for each course, between instructor/teacher and enrolled learner/student. Now, learning can be fun and games, rather than a grueling mission.

» Building a Learning Community with BuddyPress – Eduma Theme
If you want to create a social education website, with a vibrant learning community, then Education WP is ready to go, with all the advantages of BuddyPress.
Drag & Drop Page Builder – Easily Create Professional Pages with no Coding Knowledge – Eduma Theme
SiteOrigin Page Builder, WPBakery WPBakery Page Builder and Elementor Page Builder are the best page builder out there, trusted by million of websites, with the amazing features of letting you build your website in minutes.
In the past, Education WP uses the most popular, lightweight and powerful Drag & Drop page builder on the official WordPress plugins directory – SiteOrigin Page Builder.
This is due to the technical heavy load of WPBakery Page Builder plugin at the time, and because we want your website to be as fast and lightweight as possible.
Recently, thanks to the relentless work of the people in the team, we now successfully both integrate WPBakery Page Builder page builder and #1 trending Elementor with the theme, and reduce improve site's speed at the same time.
This is a very big improvement because you will be more flexible when creating your web pages according to your imagination. The theme now not only loads fast, but also works very flexible